Saturday, September 16, 2017 from 11:00 am to 7:00 pm 
New This Year

, Buy It - Print It,

No Lines at the Gate
Please read these tips carefully!
This year, ICNA has worked with SixFlags administration to buy and print tickets online at the SixFlags website using a promotion code "ICNA" or
a special link
. Here is what you need to know!
> Use the link shared on this page to buy your tickets.
> If you add some items and go to the shopping cart and then want to add more tickets or a parking voucher, refresh your page, or go back using your browser or again enter Promotion Code ICNA to find the above list.
> SixFlags sells many other types of tickets and parking vouchers for regular days. Do not buy any other items for this special event except from the list above.
> Prices shown in this image are before tax and the after tax prices will be same as advertised by MFD team.
> Ensure that any item you purchase is for Sep 16, 2017 and SixFlags Baltimore/Washington/DC location If you purchased a ticket for a different date or location, you will not be able to use it for this special event.
Final Ticket Price including Sales Tax 
Limited Quantities of Family Packs (5 Tickets): $130 Single Tickets: $32 Parking Voucher: $10 Season Pass Holders just pay $10 at the gate.
How will I get my tickets?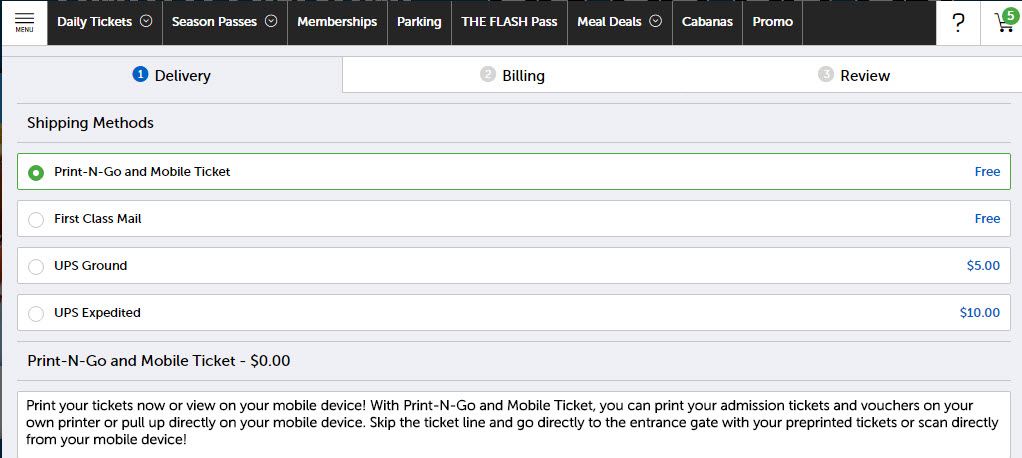 You will be able to print your tickets on the SixFlags website this year or use Mobile ticket option at no additional cost. You will be dealing with SixFlags directly so check out their website for all different options. This year, there will be NO need to get in a line outside the SixFlags gate to pick up your family pack or wait for the postman. Go online, buy and print tickets and get into the park quickly to start having some fun with your family!
Can I still buy tickets from a vendor?
Yes, you can still buy any number of single tickets from many organizations and businesses listed at the bottom of this page.  Please note that Family Packs and Parking vouchers are only available online.
Want to be a Non-Food or a Community Organization Vendor?
Please click here to apply as a Non-food or community organization vendor.
Ticket Sale Locations for MFD 2017.
District of Columbia:
Masjid Muhammad, Washington, DC. Tel: (202) 483-8832
Maryland:
Masjid Rahmah, ISB, Baltimore. Tel: (410) 747-4869
Al-Madina Halal Meat, Baltimore. Tel: (410) 265-8300
Darussalaam, College Park. Tel: (301) 768-4697
Dar Al-Taqwah Islamic Center, Ellicott City. Tel: (443) 670-2130
Islamic Center of Maryland (ICM), Gaithersburg. Tel: (301) 840-9440
Islamic Society of Germantown (ISG). Tel: (240) 277-7758
Prince George's Muslim Assoc (PGMA), Lanham. Tel: (301) 459-4942
Islamic Community Center of Laurel (ICCL). Tel: (301) 768-4697
Indus Food and Halal Meat, Rockville. Tel: (301) 297-2121
Indus Food and Halal Meat, Silver Spring. Tel: (301) 989-9448
Muslim Community Center (MCC), Silver Spring. Tel: (301) 384-3454
ISWMD - Hagerstown. Tel: (240) 600-0876
Virginia:
ICNA Center and Masjid, Alexandria. Tel: (703) 405-3332
A1 Groceries, Alexandria. Tel: (703) 768-0222
Bismillah Halal Meat & Groceries, Alexandria. Tel: (703) 799-0498
Shiney's Sweet, Annandale. Tel: (703) 642-0460
5-Mahi Bazar (Halal meat & Grocery) Ashburn, VA. Tel: (703) 858-4681
Halalco Super Market, Falls Church. Tel: (703) 532-3202
Madina Market, Herndon. Tel: (703) 904-7000
MCC-16831 Hull St, Moseley, VA (Richmond) Tel: (804) 922-7356
Dar Alnoor Islamic Comm Center, Manassas. Tel: (703) 576-4753
Nirala Sweets & Restaurant, Springfield, VA Tel: (703) 477-9444
BBQ Delight, Manassas Park. Tel: (703) 361-1010
Royal Kabob Place, Annandale, VA Tel: (703) 256-0009
ADAMS Center, Sterling. Tel: (703) 338-7132
Fair Price International, Woodbridge. Tel: (703) 680-1170

We appreciate your time in helping us making Muslim Family Day, a fun and enjoyable event for our community. So that we know you better and make sure you enjoy your time as a volunteer, please take a few moments to complete the form below:
Location
In Baltimore and DC area, the event is at Six Flags America, Baltimore / Washington DC.
Date and Time
Saturday, September 16, 2017 from 11:00 AM until 7 PM. Entire park is reserved exclusively that day for Muslim Family Day.
Season's Passes
Season pass holders can buy an upgrade ticket at the gate for only $10
Parking
Parking Vouchers can be purchased online for only $10. On site parking price will be higher.
Food and Bazaar
A special selection of various Halal Restaurants will be selling their food in the park.
The halal restaurant food will be available for purchase all day long.
Prayer Area
There will be a designated prayer area in the Gotham City Arena
Zuhar prayer will be held at 2pm
Asr prayer will be held at 5:30pm
Safety
Due to safety precautions, you are not permitted to wear loose clothing (unpinned scarves or dupattas) before going on the rides.
Accommodations
Several lodging options are available near the park. Click here to see the different hotels in the vicinity.
Get more information on the park by visiting:
http://www.sixflags.com/america/info/FAQ.aspx
Or Call us at

Location and Directions
Six Flags America is located at 13710 Central Avenue, Bowie/Mitchellville, MD 20721 Click here for directions.
Driving Times
15 minutes from Washington, D.C.
40 minutes from Baltimore, MD
30 minutes from Alexandria, VA
90 minutes from Wilmington, DE
90 minutes from York, PA
120 minutes from Harrisburg, PA
120 minutes from Carlisle, PA
For more FAQ's please click here.